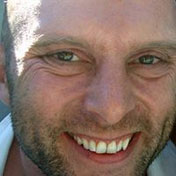 Welcome to my website. This site provides details of my pet projects:
All of these projects are my own and were implemented over the last five years. Both the contact form and bvhacker are open source and are hosted on GitHub. The common theme throughout all my pet projects is experimental user interface / interaction design.
With bells on.
starting out
When I first started developing my own projects, virtual worlds offered exciting creative opportunities for web application development at a time before html5 / jQuery / CSS3 had gained widespread support. Back then it seemed that browser application development time was monopolised by çross browser compatibility issues and various other browser specific problems mostly related to microsoft's internet explorer. These issues, coupled with the fact that flash was the principle animation technology doused any interest I had in browser based web applications development at that time.
virtual worlds
So I followed my interests and started developing for virtual worlds. I enjoyed years of creative freedom and was met with more than a modicum of success, despite the fast changing, unstable nature of the environment. My Second Life projects are still up and running to this day.
browser based applications
More recently however, it seems we can finally ignore the old, non standard browsers and are far less encumbered in making truly cross platform browser based applications. I'm told this may be a little premature, but the way I see it, why should the world wait for great browser applications on account of a dwindling minority who still use broken technology? Hence my recent shift to the hugely audienced world of browser based applications. This is my new blank canvas…
background
In a life previous, I was a software developer, specialising primarily in C++ (video processing, network management tools) but also with smattering of Java (device porting for J2ME games).
I have bachelors degree in electrical and electronic engineering from Brunel University and a masters degree in computer science (multimedia applications and virtual environments, distinction grade) from The University of Sussex.
bio
After 20 years of adult life living in some great cities, I now live in the jungle on a tiny tropical island in the middle of nowhere. I insist on working from home where I can prepare meals and do the laundry during screen breaks in a calm, unhurried manner.
I get so much more done this way. Especially without all those conference calls and meetings. I love it



I aspire to be a writer at some point, which is why there's an almost empty blog section here, for practice. One day…

~ davedub jan 2014